The Death Pool – Predicting The Future Of Three GMHL Teams
You know, I am really excited about this time of year.  Tomorrow is one of the best holidays.  I get to room the streets with all the people on Halloween and no one is the wiser!  Yes, it sure is fun to see all of you up close.
I regularly do the same thing on weekends too though.  Yep, I just head out to Tier III games incognito and do all the poking around I can.  I would like to thank all the well connected fans in the stands and concession lines for their loose lips!  You guys and our tipsters are the life blood (or death blood) of this column.
So, lets get out the old crystal ball and see what ae see……
The Fergus Farce are one of the biggest embarrassments in hockey.  Seriously, this team is a shit show from top to bottom.  You cant call this junior hockey.  Its not even good house league Midget hockey.  But it looks like this shit show might survive the year.  It shouldn't, but it might.  As long as kids want to stick around and keep getting their asses kicked anyway.  On a positive note, they did win their first game the other day when they got a forfeit from the deceased Wiarton team.  Likely the only wins they get all year will be against Wiarton.
Then we got the Toronto Predators.  Yeah alright, Predators?  The only thing predatory about this shit show is how is how many beers the boys can take down after each loss.  Apparently the plan is to put on weight by sitting on their asses and losing as often as possible and then next season turn all that ass fat into muscle in the summer.  Nothing quite like a dedication to fitness.
Last but not least…..
The London freakin Lakers.  This shit show is proof positive of how not to operate any kind of hockey team.  Don't believe me?  When the Owner/Head Coach posts this shit on Facebook you cant have any confidence in anything about him or this "team"….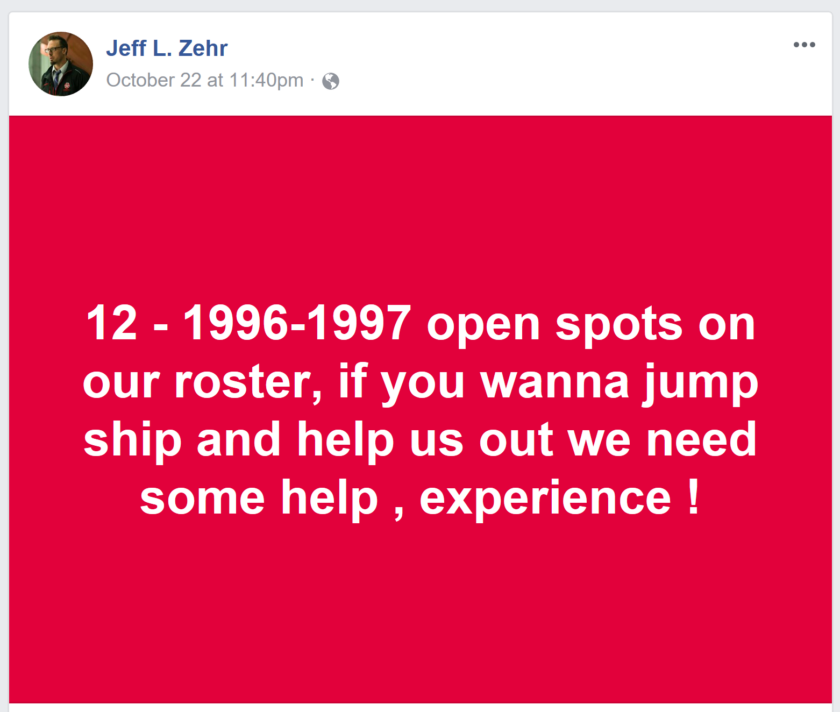 So, if your team has 12 spots that means a few things.  You suck as a recruiter.  Your team sucks, as personified by your absolutely embarrassing record of 1 and 12 this year.  That if you are asking players to "jump ship" you are desperate enough to steal players from other teams.  If you as a parent send your kid to play in this shit show, you shouldn't have had kids.  Nothing like putting it on Facebook to get shit started.
On a positive note.  The GMHL is rumored to be having an expansion meeting next week.  Wiarton Ontario City Commissioners are said to be holding their breath until the end of the meeting in the hope that they will get a third chance with the GMHL.  Yep, third time is the charm shitheads.  Ha Ha Ha
David Wagner – The Angel Of Death – For Those Who Live Stupidly I salute You
*The Death Pool is a mix of comedy, and satire in connection with recent events.  It is not an official report of current events although it may look as though the news is so accurate that it could one day happen or may be happening.