By Joshua Boyd / USPHLPremier.com
On August 21, Gage Dill was in a car out of Fort Myers, Fla., and bound for Milton, Massachusetts, which will be his home for most of the next nine months.
"We're on our way up. We check in Thursday and classes start on Monday [Aug. 28]," said Dill. "Captains practices for hockey will begin first week of September and full practices end of September or early October."
Essentially, for Dill, summer is days away from being over as his sophomore year will kick off at Curry, with Dill re-entering the Colonels' hockey team as the Commonwealth Coast Conference's Rookie Of The Year. Dill posted 15 goals and 29 points in 29 games for the Colonels last year to earn the ROTY honor in addition to All-Rookie and Third Team All-Conference honors.
"I had an awesome first year. The coaching staff was amazing, the team that was brought together was awesome, the bond was tight. Everyone challenged each other on the ice to make everyone better," said Dill. "I felt really grateful that I could come into this program and have such a huge part in it. I owe it all to my coaching staff and my teammtes who helped me all year long – and also the Florida Eels for getting me to that level and allowing me to play in these positions."
Dill's Premier career started with the Eels rivals the Florida Jr. Blades, where he put up a fantastic rookie season in the USPHL Elite in 2017-18 with 45 points in 40 regular season games.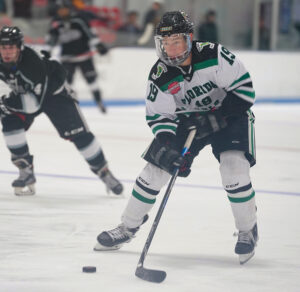 'I felt good under that coaching staff. I really enjoyed my time with the Eels and it was nice to be around friends and family while still playing a good level of hockey.' – Gage Dill, Florida Eels alum (2018-22)
"I didn't really know about junior hockey or the Jr. Blades or Eels until I became of age to play with them. I had played U16 on the Atlantic Coast, with the [former] Palm Beach Blackhawks," added Dill.
After that first Elite season, he next connected with the Eels and was drawn to their family-oriented organization. He went on to post 74 points in 42 regular season games, followed by 11 points in five games, which included a trip to the 2019 Nationals.
"It felt really good, it was nice to develop when I was younger, so that when I got to that higher Premier level, I could really excel," said Dill.
He did exactly that at the USPHL Premier level, putting up back-to-back 40-point regular seasons in 2019-20 and 2020-21, both years that saw the Eels qualify for the USPHL Premier Nationals (though the 2020 Nationals were canceled).
"I felt good under that coaching staff. I really enjoyed my time with the Eels and it was nice to be around friends and family while still playing a good level of hockey."
Dill got a look in 2021-22 with the Eels' NCDC affiliate, the Islanders Hockey Club. The IHC's NCDC head coach is Tim Kyrkostas, the former Head Coach and General Manager of the Palm Beach Blackhawks' top-level junior teams. Dill played in five games with the Islanders before returning to the Eels. Injuries kept him out of much of the Premier season, but he still put up 21 points in 14 regular season Premier games. He absolutely dominated in the playoffs and USPHL Nationals, making his third straight trip to the Premier's championship tournament. At Hudson, N.H., Gill posted 12 points in seven games. The Eels reached the semifinals of the Nationals that year, as well (after having reached the Championship Game in 2021).
"I'd say my speed definitely increased and we'd do all types of summer workouts to increase strength as well as agility. My play with the puck as well as without it improved. I was very comfortable with making plays in certain situations," he added.
He began to talk with Curry at the 2022 Nationals in Hudson.
"They had talked to me, but also told me they were full. But after that, they lost a guy and the coach reached out to me and asked if I could play with them," added Dill.
It was obviously a match made in heaven as judging by that first year in 2022-23, and not just on the ice.
"I recently switched my major to accounting and after this past year, I ended off with a 3.75 GPA, which is very good," said Dill. "Education has always been an important part of hockey. Without a good education and good grades, I wouldn't be able to play."
Dill is excited to be getting ready for Year 2 with Curry and feels like he's in an even better place now thanks to his familiarity with the NCAA game and his teammates.
"I feel like I will have a bigger impact now that I know how the CCC is, how the game is played, and how my teammates are on and off the ice," he added. "I'm more comfortable coming into this year's situation."
The USPHL congratulates Gage Dill on a fantastic first NCAA hockey season with Curry College and wishes him the very best of luck in his future seasons.