Confessions Of A Junior Hockey Coach – NAHL Showcase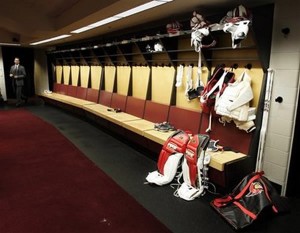 To be sure it was a full week to scouting for me.  I concluded the week of the working with a visit to the NAHL Showcase in Blaine Minnesota on Saturday.
This was my first visit to the event, but I had heard much about it before so I figured I would at least take a look for a day.
When I arrived, I was very impressed with the size of the facility.  When I walked in to the building I was more impressed with the amount of scouts I ran into in the first five minutes than any other event I have been to.  Immediately I ran into NHL scouts I see on a similar scouting schedule that I am accustomed too.
Such a large event, to be run so well was very impressive.  Security, scheduling, and all other operational items looked to be running close to perfect.  The logistics that go into organizing such an event and keeping everything on schedule must have been a tremendous task to undertake.
The hockey it was very good.  It is not often enough that a scout can watch U-16, U-18 and Junior hockey in one day let alone a multitude of these games all in one place.  There was something for everyone to watch here.  Any teams looking toward the future were sure to be able to identify the players that may one day be able to help their team.
I am fairly sure I found every NHL team in attendance, and nearly every NCAA Division One school.  NCAA Division Three was very well represented as well.  The USHL was in attendance as well as officials from USA Hockey.
I found it peculiar though that many Tier III teams did not attend the event.  I saw a few, but not many.  With so many teams claiming they can not fill their rosters this year, you would expect them to be at an event like this trying to network with higher level clubs as well as with Midget programs.
All in all, I would have to say this was a great event to experience.  It was very well run and featured players in a way that will surely help them advance their career's.  It is one of those events that leaves you exhausted at the end, but looking forward to coming back next season, and I will for sure be back next year.
Coach