Photo Caption: Current and former Florida Eels players helped out to clear trees and other debris around the Fort Myers area in the days following the landfall of Hurricane Ian.
By USPHL Staff
The United States Premier Hockey League is excited to announce that fans, parents, coaches and many others in the #hockeyfamily community have raised more than $11,000 for the Florida Eels, Florida Jr. Blades, as well as local Fort Myers-area youth hockey organizations.
GoFundMe: Donate to the Eels, Blades and Fort Myers area Youth Hockey Organizations.
We checked in on both teams this week to see how the recovery and cleanup efforts were going in Fort Myers, home of the Eels, which was hit dead on by Hurricane Ian as a Category 4, and Estero, Fla., only 17 miles south.
"All of our players, staff and billet families are safe and, thank heaven, not one of the dozens of the not-so-fortunate – the fatalities. There [were] over 50 in Fort Myers," said Eels owner and general manager Frank Scarpaci.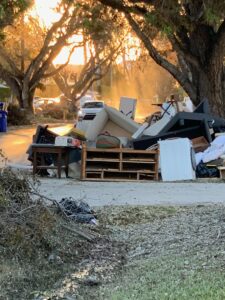 "The situation is the water and flooding has receded. The flooding caused significant damage to personal property and homes throughout Southwest Florida. Thousands have been displaced. Ninety percent of my players remained in Florida. Very few could go home as the airport was closed," said Scarpaci. "Also, most were not able to get transportation to travel to other airports as there was no gas – 99 percent of the gas stations were closed in the first few days and then the lines for gas were one to two miles long. There were many of us whose vehicles sustained significant damage. Many cars were abandoned."
"A good number of players and billet families evacuated out of the area and ended out in Orlando, Fort Lauderdale and Miami. The billet homes were not able to be occupied," said Scarpaci. "Much clean-up to be done.
"Our guys will be heading back to their billet homes this Sunday [Oct. 9]. There is still much work to be done – taking plywood off the windows, trees overhanging," said Scarpaci.
While the Eels players had to deal with some damage of their own property, that of their families or that of their billets, they also were a huge help and got out into the Fort Myers community to help the moment they had the chance.
"I am very proud of the Eels players. Those who were here in Fort Myers worked very diligently helping out in the community. They volunteered downtown which looks like a war zone – completely destroyed," said Scarpaci. "They also helped many of the senior citizens who were helpless.
"The rink [Fort Myers Skatium] is intact, but being used as a food water distribution center. We should be able to get our guys back into training next week," added Scarpaci.
Florida Jr. Blades
The Blades office sent along the following message:
"With the passing of Hurricane Ian, we have been able to assess damages here in Fort Myers / Estero. Thankfully, everyone in our organization is safe although many billet families and families sustained damages to home, cars, and other property. We have begun to rebuild and make our community whole again. It will be a long process, but the outpouring of support from our community has been very heartening to see.
"Hertz Arena has been activated as a shelter in collaboration with the county and the Red Cross and has done tremendous amounts of good ever since the storm hit last Tuesday. We have been working non-stop to make sure that those who have needed to come stay at our rink are greeted with a smile and a promise that we will do whatever we can to help them get back on their feet again.
"Almost all of our players have gone back home for the time being as many are without power and/or water, but we are looking to get them back later next week. Those who have stayed have been working to help the community, and once our remaining players return to the area we will be starting team-wide volunteer efforts to help out wherever we are able to make a difference.
The Blades expect to bring their players back into the area on Oct. 14 to help with community assistance, and return to practices on Oct. 18 at the Ellenton (Fla.) Ice And Sports Complex.
"We are certainly looking forward to getting back to hockey as it represents normalcy, but first there is still much work to be done. These are the times that community is more important than ever and the Jr. Blades are committed to making sure that we contribute to this healing process."