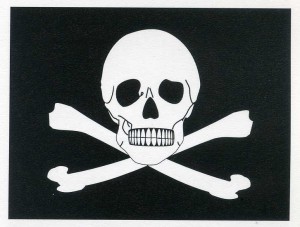 Oh yeah, the Angel of Death is in the house boys, and I am taking them down as soon as the pulse goes low enough!
Lets be honest, the MWJHL was dead as soon as the league tried to say they were going to have 16 teams last year.  Funny, or another phrase that begins with F and U?
That's right, 16 teams announced for 2012-2013.  How many teams played?  Well that's up for debate, but hey, they are coming back with 8 solid groups for 2013-2014. Right?
Dayton Aeros, dead on the scene
Great Lake Lightening, buried in their practice jerseys
Ironwood Bears, died while in hibernation
Lake Erie Steelheads, caught on a fly line and was actually a dead carp
NWO Growl, mercifully muzzled
Traverse City Cohos did not make it up-stream
Do we really need to spend any more time on teams that didn't even take the ice after the MWJHL announced them?  That's like beating a dead horse.  Speaking of dead horses……..   We are happy to announce the newest league members are the Dead Horses, we're not sure where the team will play but we will let you know when we feel like it!  HA HA HA
Holland River Bandits, ooooohhhhh forgot to mention the welfare check didn't cover the team expenses
Marquette, ooops, forget those guys, we didn't want them anyway
From the league offices, where policy states its better to keep your head in the sand as long as you're receiving a paycheck we have this breaking news;
West Michigan Freeze, ummm well about that, they decided to close up shop after they figured out they were screwed because someone was so desperate that they would take their money and let them in the league when their chance of success was next to zero.
Alpena Streetcats, yeah well we might have the worst name in hockey history, but we do have three skaters and three goalies to start the season, did I tell you our top forward is a girl?  Did I mention I am already making inquiries with other teams for a job?
Dont worry though, the rest of the league is strong!
Bloomington Blaze, yep we got a solid dozen or so players, could have had more but we didn't spend any time scouting over the summer.  We will just wait for Minnesota to make some cuts and pick those up.
Michigan Ice Dogs, well maybe we should be called the puppies because our goalies outnumber our skaters and that doesn't give us much bite.
Berkley Bruins, we are just getting started here in the Detroit area, and there is no such thing as an over saturated market here!
Detroit Fighting Irish, hell yeah we are fighting.  We have almost a full roster so it should be too hard to kick some teams butts this year!
Soo Firehawks, flying straight with a full roster, but just a little unsure of how we are going to make a new schedule this late in the season.
Traverse City Hounds, all is well here, um well I mean other than playing a bunch of our home games not at our home rink that is.
I am now hovering over three MWJHL teams and just waiting to plant them six feet under.  Which teams left out of the remaining seven MWJHL teams will survive?
A little vampire bat told me that AAU is going to force the MWJHL to merge with another AAU league if things don't get better quickly.  What would they get though?  One team with six goalies and three skaters?  Another with 2 skaters and three goalies?
The same bat told me that only three MWJHL teams have the possibility of putting teams on the ice if games had to be played this weekend.
As the angel of death I make it a habit of standing by train tracks waiting for the next wreck to happen.  Scoop the bodies up and move on down the line is what I say.  Got to run kids, I think I see a light at the end of the MWJHL tunnel right now!
See you soon with the next death watch.
David Wagner – The Angel Of Death – For Those Who Live Stupidly I salute You
*The Death Pool is a mix of comedy, and satire in connection with recent events.  It is not an official report of current events although it may look as though the news is so accurate that it could one day happen or may be happening.