The death watches have started. Rumors of Tier III teams on the verge of folding are already running wild. And so we begin to turn the page and look toward September and the start of the 2023-2024 regular season.
The latest hockey genious Derek Prue junior hockey abomination, the National Junior Hockey League is by all eyewitness accounts, a train wreck waiting to happen.
Bystanders have been seen running to the local military surplus stores to stock up on body bags. Not just for the franchises themselves, but for the few players and communities who have once again be sucked into this annual parade of disasters.
The Northern Alberta Tomahoawks have been skillfully rebranded as the Northern Alberta Crush just in time to be tossed from their arena.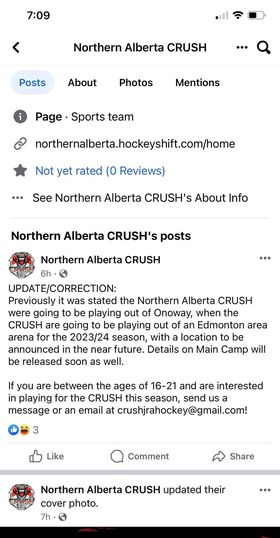 Yep, just in case you didn't catch the details, this hockey genius enterprise does not know what arena they will be playing in, but just wait a minute and trust him, everything will be alright. More information on a location will be announced in the near future. And in other news, the Crush will be setting off on a baked good sale to pay off any debt the Tomahakws may be found liable for.
The rest of the league has this to say about player signings……
(insert crickets chirping here)
The rest of the league is quoted to be saying the following regarding a season schedule…..
(insert bodily function sound after a long busch light weekend with the boys)
Move along folks, nothing to see here. Please respect the requests for privacy and the embarassed looks from those who participated in this annual stupidity right of passage.
Officially the whole NJHL is on life support. Multiple sources in Alberta are reporting that tribal leaders have gotten wise to the hockey genius and the broken promises left across Western Canada.
TJHN is giving the NJHL a less than 50% chance of survival with its five teams. While it is possible the league starts play, we would bet a whole lot of money that all five teams do not finish the season, or that the whole league collapses completely.
Thanks for stopping by the critical care unit, please be sure that you dont accidentaly kick a plug out of the wall. We wouldnt want to see the NJHL flatline too early.