What do you get when a team is kicked out of their league, and then the same day joins a new league? The team was kicked out of the old league for not paying its bills, and the new league is known across Canada for not paying its bills.
But wait, it gets better.
The very next day, after celebrations by the new league and the team involved, the city that actually own's the ice arena decided to cancel the contract with the team.
Poof! Like a bad fart from your one hundred year old grandfather, all that is left of the Northern Alberta Lightning is an empty room and a bad stench.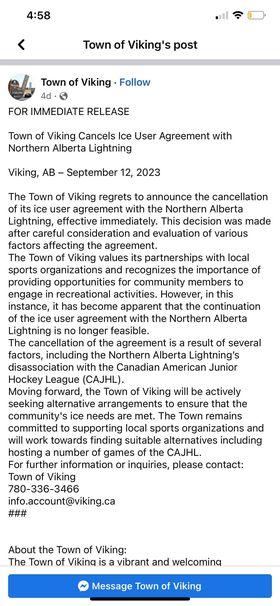 Just when Canada's "hockey business genius" Derek Prue was set to fleece a new city and Viking team ownership could have moved forward with collecting money from unsuspecting parents and players, the Town of Viking turns on the ozone machine and clears the air of the stench.
Better yet, the Town of Viking clearly makes a statement about the NJHL, the Northern Alberta Lighting ownership, and the "hockey business genius" by stating they will find "suitable alternatives" to use the ice that is now available, and that they will be hosting "a number of games of the CAJHL".
Yes, for those of you who cannot read between the lines, the Town of Viking has said that neither the Northern Alberta Lightning ownership or the NJHL are "suitable" to rent ice to.
When city's turn down revenue for ice sales because the team and league are not "suitable" that essentially says the city is aware of both entities being of the shit show variety. When a city is willing to lose money before they rent to certain people, that says that the city has done their homework.
Now, the Battle of the Bastards has taken a new turn. The CAJHL will roll out this season with six teams while the NJHL will try to roll out with five. That is if they can find an ice arena for one of the five teams. And all of a sudden, some NJHL news stories are now missing from their website concerning new staff added to a team. I wonder what could have happened?
Stick around, the entire NJHL, all five teams are in the Death Pool intensive care unit. Any one, or all five of them could disappear any minute.