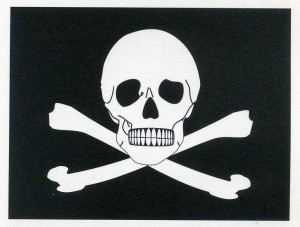 If being dumb were punishable by death, I would be a busy guy this week!
I don't know if it's the teams that carry four goalies or the parents that pay for their kids to be a part of a four goalie rotation that should be taken down right now?!
If you're a Tier III team looking to supplement your income, all you need to do is follow the business model of the Greater Metro Hockey League up across the border.  It seems as though carrying four goalies in the GMHL is now the rage!  "Can't find a team Johnny?  Dont worry about it, you can purchase your spot right here."  What a sales pitch.
Hey kids, speaking of the GMHL, they are still signing players that have already turned 21 years of age.  When you cant get your life together enough to play hockey in school, you always have a place to go live the dream one more year!  Hey, why not spend the money playing there, because you sure didn't spend it on your education.
Latest trips out west have seen some teams rising from the dead.  Yep kids, the zombie apocalypse may be upon us.  The good news is that the Western United States has no shortage of dooms day preppers! Hunker down in your bunkers boys its going to be a long year!
The New Mexico Renegades may actually struggle through the season.  Apparently it isn't as hard as I thought to find enough people desperate enough to live the dream.  That's right kids, for a pocket full of dollars you too can purchase a roster spot.  Then again, mon and dad might just be better off buying you a team.  Oh wait, never mind, that's only allowed on the East Coast and in the Mid West! HA HA HA
The Renegades are back on the ice this weekend after two weeks off.  Lets hope they can get on the score board.  But hey, if not, at least they found enough people desperate enough to play that they can survive another day.
OHHHHHH Snap.  Hey kids, I almost forgot, the Sturgeon Falls Lumberjacks?  Ever hear of them?  Yeah, thats right, the GMHL again.  Well it seems as though the Lumberjacks had a little internal "management" issue to deal with recently that saw a half-dozen players leave the team.
Manager, I mean Coach, I mean Scout, ummmmm errrrrr, master recruiter Stirling Wright was recently removed from his position with the Lumberjacks.  So was his son, and a few other players that went up to Canada to begin repeating last seasons business plan of traveling around North America and causing havoc.
Whew, it was a long weekend friends.  Running down information and puting forks in operations can sure take the wind out of your sails.  Speaking of sails, I will be sailing up the Eastern United States this week, and ohhhhhhh babbbbbbyy I am hearing there be some mighty stupid operators out that way.
From Maine to Florida, this may take more than just one week.
Look for the Death Pool Pizza special coming to a retailer near you soon.  Buy one Pizza for $8000.00 and get to play every second game for free for the most desperate team in your league today! HA HA HA
David Wagner – The Angel Of Death – For Those Who Live Stupidly I salute You
*The Death Pool is a mix of comedy, and satire in connection with recent events.  It is not an official report of current events although it may look as though the news is so accurate that it could one day happen or may be happening.