Some have asked why we would expose Derek Prue. It is usually those same people asking why who later join the group of people saying, "I should have known better".
Mr. Prue is somehow tasked with running the GMHL west, when in fact he has no track record of ever successfully operating a team. As the GMHL West was born out of the ashes of the WPHA, the GMHL in Ontario sat back and watched as their brand was spreading across Canada.
No one can blame the GMHL for taking these teams under the GMHL umbrella. It's a smart business move to expand your brand and collect franchise fees. Funny how an expansion franchise in the Ontario GMHL costs about $45,000 and in the GMHL West it is said to cost $150,000. Price discrepancy is stark, isn't it?
Where does all that money go? No one knows the real answer to that.
Where does all the player tuition money go? First, it goes to pay Derek Prue and pay his staff that are loyal to him. After that bills are paid to the critical infrastructure to keep the arena doors and buses operating. This is done so, players and tribal elders who are paying the bills, can't call a breach of contract and stop paying or file suit.
Yes. We have copies of bills and emails from sponsors, bus companies, and city officials who have been taken to the cleaners for tens of thousands of dollars.
Most of the people taken in on these schemes have one thing in common. Their losses are usually not enough to justify spending thousands more on an attorney to try to sue and get their money back, and most end up finding out that you can't get your money back from a person who doesn't have any when he is in bankruptcy. As of November of 2022, Mr. Prue was still in bankruptcy.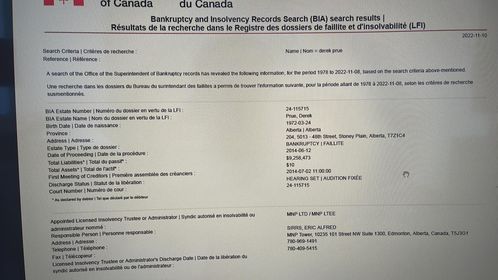 What those same people have in common is the ability to contact TJHN and send us proof of their claims. Many people have sent proof, and more join that group weekly.
What's interesting is that after Mr. Prue and his partner were kicked out of the CHL, he came up for air again in 2012 in Cold Lake Saskatchewan attempting to get an SJHL franchise and place it in Cold Lake. A city where he would end up placing a team in the WPHA, and later the GMHL West after a fierce fight with the former owner of the Cold Lake WPHA franchise.
Of course when the SJHL turned down Mr. Prue, Prue reacted by writing a scathing letter to them.
A lawsuit naming Mr. Prue for damages from the former owner of Cold Lake in the WPHA is still pending according to court records. Damages are being sought in the amount of $250,000.
Recently TJHN received another email from a parent who had a son attend two weeks of camp with one of Mr. Prue's 2022 expansion organizations, the Burns Lake Timbermen. After paying $10,000 only to find the organization could not fulfill its obligations, the player left. Though a refund was promised, none has been given. There was no legal contract either since the player is a minor and the parent never signed.
Thankfully though, it looks like the police in Burns Lake will be getting involved now. Turns out that in Burns Lake and the rest of Canada for that matter, that a person under 18 cannot legally sign a contract, and if you do not deliver what someone pays for, that is usually seen as a fraudulent act. We encourage all players and parents to take this course of action if in a similar situation.
This kind of activity regarding player tuition is common in the GMHL West and Prue operated organizations. The money is received and then it is gone. The implied threat of making sure the player is "black balled" if any action is taken is always hanging in the air. That fear, and the cost of attorneys usually keeps things from going to court or going public.
Mr. Prue, has a signature when conducting business. That signature is selling a dream to a small city, usually near or on First Nations native land, get the local community believing in the dream, then placing the team management with either a family member, ex-wife, current girlfriend, or local businessman. These are the front people. These are the people that take the heat publicly when things go wrong.
Just last season Prue had his son, an ex-wife and now ex-girlfriend operating multiple teams for him. Imagine those league meetings huh? Professional organization for sure.
Now though, the cracks in Prue's foundation of operations are showing through. In the GMHL West, ten franchises exist on paper. Two of them are now taking time off until January after Prue's ex-girlfriend gave the franchises back to Prue. These two teams, not only do not have enough players to play, but have mounting costs that will not be able to be covered.
With ten teams in the GMHL west, it now looks like Prue owns, controls, or has an interest in eight of those teams. Isn't that a red flag for anyone?
Apparently not. Prue has at least two more expansion teams planned for the 2023 season.
Part three coming soon.