The Junior Hockey News loves the GMHL. Seriously, we all just love this league for all the idiocy that comes from allowing anyone with a check book into the club.
No wonder each team lets anyone with a check book onto a roster. If league leadership sets the example then why would anyone expect things to be any different at the team level?
Outside of Derek Prue in the GMHL West, Troy Kahler looks to be the leagues next best shit show operator. The beauty of Kahler though is he isn't even smart enough to cover up some of his fraudulent exploits like Prue has been able to.
Most recently Kahler was arrested at one of his teams games. Looks like that during a game between the team he owns in South Muskoka and West Nipissing, old Troy decided to assault someone. Yes, nothing says class, control and professional like the Owner/GM/Coach getting charged with assault for what he did at one of his teams games.
Bravo Coach! Way to show these young men how to behave. I am sure you will get an award for this from some fake organization.
Speaking of fake. Turns out that Troy Kahler likes to make things look like something they are not. Fake would be taking a Kia Sportage and putting a Cadillac Escalade badge on it and calling it a luxury vehicle. Also known as putting lipstick on a pig.
Looks like in this photo taken while playing in Dubai, Troy Kahler is trying to portray himself as having played for Team Canada;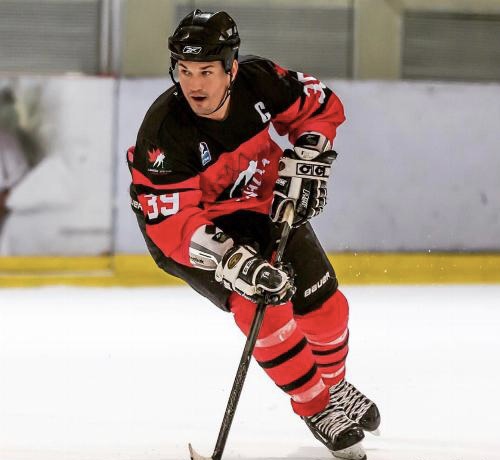 See the real problem with this photo is that he uses it on his Elite Prospects page, he never played for Team Canada, the photo was taken in Dubai, and looks to be a fraudulent and unauthorized use of the IIHF logo. Yes, we have made the IIHF aware of this, and Hockey Canada will know in about ten minutes of this being published.
See this kind of representation, made on a respected website like Elite Prospects, is solely designed to mislead unsuspecting and otherwise uneducated hockey players and parents into thinking Kahler is something he is not.
Another tell tale sign? No half shield. In international competition it would be required. Another sign? Gloves do not match uniform, and the "C" he awarded himself is sublimated and not a standard issue Hockey Canada jersey. But you know, who cares about details right?
What is interesting here is Ken Girard actually suspended Kahler immediately, and indefinitely. This from a GMHL that is not only usually slow to act but rarely acts. Other rumors are coming out of the GMHL concerning Girard actually attempting to implement standards on some problematic items. More on that another time.
Kahler though, appears to have other exploits to his credit concerning charging players full tuition in order to play an handful of games. Those same players having never in their life played hockey before at an organized level. Yes. Two complete novices sent out onto the ice at risk of serious injury or death in order to collect a reported $13,000 tuition from each of them.
"Welcome to South Muskoka boys. Thanks for your checks, once they clear the bank, we will give you some t-shirts, hats, and a stall to sit in. Then we will toss you out on the ice and hope you survive. Welcome to the G show baby."
These two boys after playing in, or being on the bench for a handful of games last season have not been seen again on the ice anywhere. But hey, its all about the kids right? All about the opportunity right? More like all about the kids and the opportunity to get their money.
Looks like Girard has a lot on his plate to deal with. One out west that wants to buy G Show franchises for $10,000 and sell them for $150,000 and another in his backyard that the police are not only looking at, but have at least one charge against.
Whats next for the G Show? Expansion of course! LE BÉCARD DE SENNETERRE from the defunct CPJHL have joined the G Show after two years of not playing. Nothing says success like taking a team in from a league that failed.
Stick around, we got more good stuff on the way….