Tier II Teams Making Pre Draft Camps Free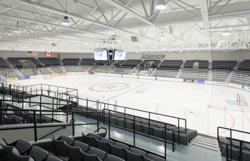 Early last week TJHN began receiving information and emails that contained the startling claim that in a sweeping movement, Tier II Teams holding "pre draft" tryout camps would be making those camps FREE to attend.
Speaking on the condition of maintaining anonymity one team owner went on record saying;
"We don't use the camps to draft our team anyway.  Everyone has figured out that we don't give a shit what benders registered in the past.  We got the ice, and no one wants to pay any more, so we make the ice free.  I am losing my ass financially so why not try it?"
One Mid West General Manager went on to describe how this "free" camp idea became a new revenue generating initiative;
"Everyone has figured out that these team pre draft camps are absolute bullshit.  So, we had to figure out a way to get the cash flow up again.  Now, they have to stay in our team hotels, and we charge them a hundred bucks more for each night per room and the hotel kicks it back to us.  If they don't stay in the team hotel they cant get on the ice until their parents buy a special edition $500 T-shirt.  Oh hell yeah, we are getting that freakin money one way or another."
Another Director of Sales and Marketing elaborated on the new plan by saying;
"Shit, we are not only jacking up room prices, but we are charging them twenty bucks a day per player to use the dressing rooms.  Then, we got these special water bottles that they have to use which automatically charges their parents credit cards ten bucks for every sip of water on the bench.  This combination will see revenues going through the freakin roof once again!"
League offices would not confirm or deny any of these accounts on or off the record.  However, one league official did say the following;
"We got to make sure our teams get the money.  All the other shit we are trying isn't working, and the whole thing is a mess.  If they don't get the money, I don't get my money, and their aint no way I am going to sit around in this sweet office without getting paid.  You feel me?"
It is now officially Team Pre Draft season, and the hotels are filling fast.  Don't forget to sign up to make your donation while on the camp tour.
And if you believe this, like any money driven team is going to give you anything for free, you haven't looked at your calendar.