Ontario Avalanche vs. Valencia Flyers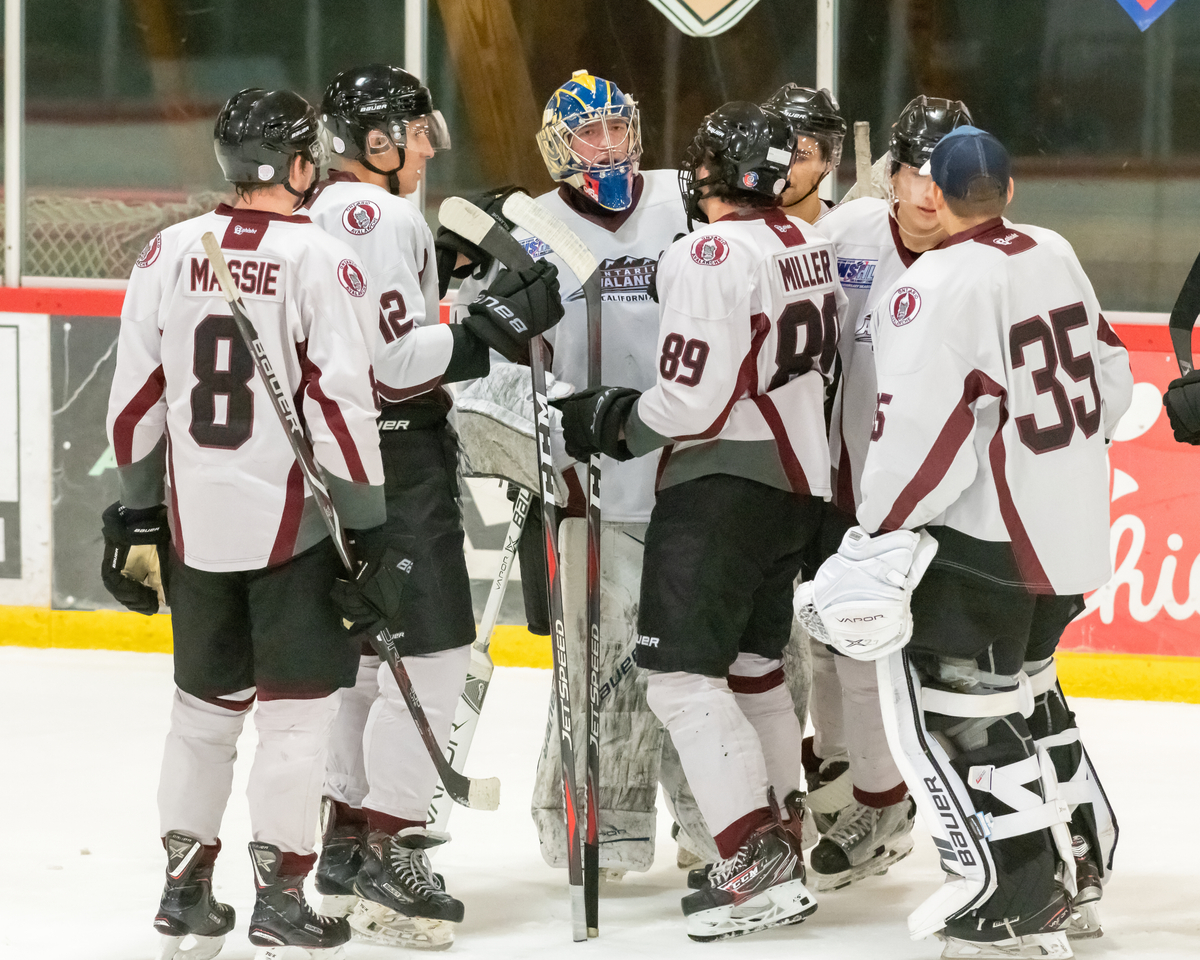 (Photo by Mark Mauno, WSHL)
The Ontario Avalanche will remain in fourth place of the Western Division even if it wins the rest of its games in regulation. A 17-point gap stands in between them and third place, but they will want to get as many consecutive wins prior to the post season. First they need to focus on the task at hand, and that is two games at the Valencia Ice Station starting tonight, and tomorrow.
The Avalanche and Flyers haven't played against each other since mid Nov. In fact, the Flyers have success against Ontario whose dropped two of three games at the Ice Station including 5-4(OT) and 4-3 losses. But going into this weekend, it's the Flyers who haven't seen a win in 21-games, a streak that dates back to Game 2 of the Showcase.
Overall, the Avalanche own a 3-2 season-series lead over Valencia.
Although the Avalanche are essentially locked-in to their position, that doesn't mean they don't have anything to play for. It will be likely to see top players resting, but that opens the opportunity for others to get more ice time and impress the coaching staff going into playoffs.
Avs netminder, Romi Huunonen, is going into the two-game series having won three of his last four games, including a single shutout versus the Las Vegas Thunderbirds.
Edson Aeros vs. Barrhead Bombers/Cold Lake Hornets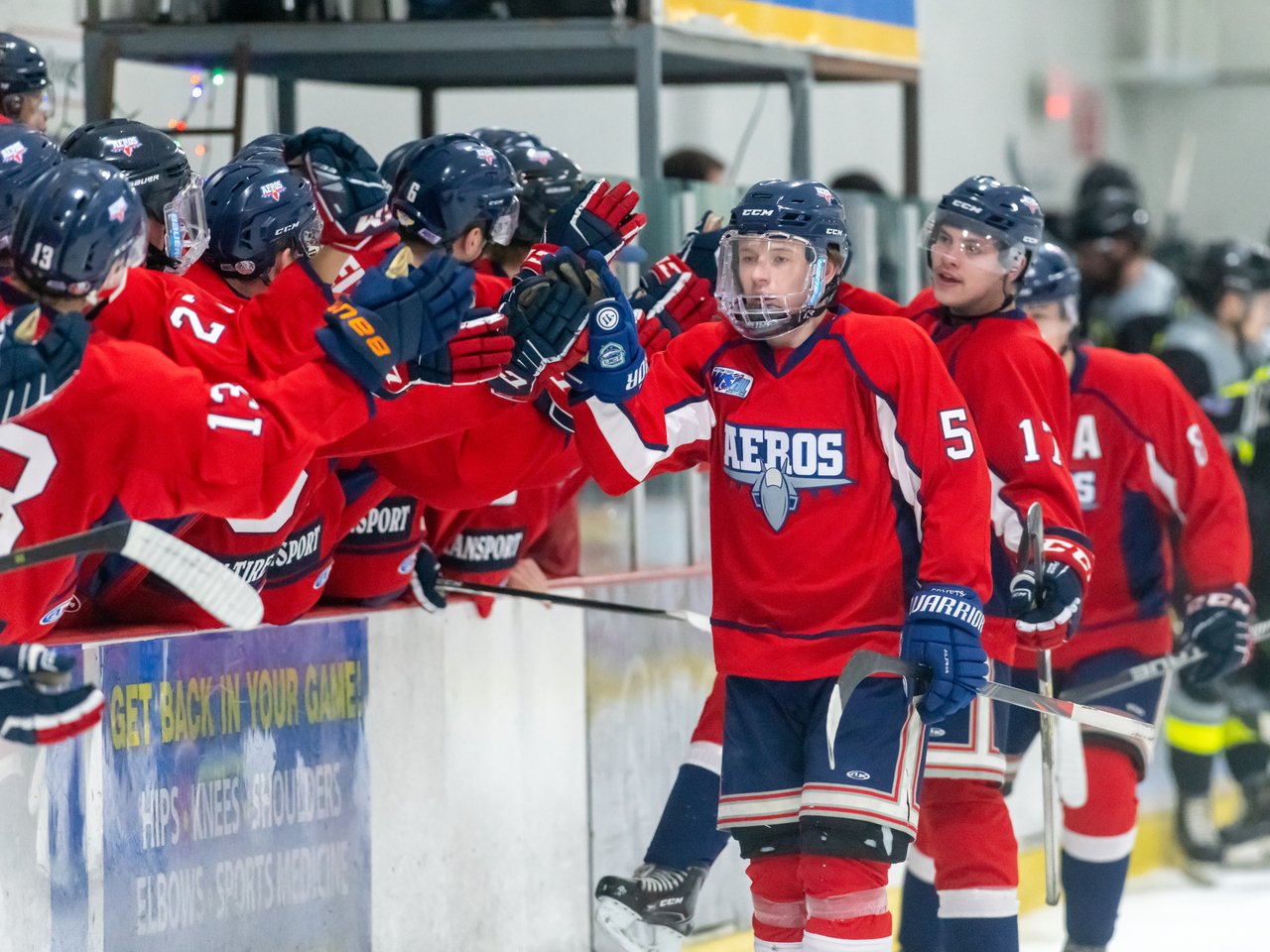 (Photo by Mark Mauno, WSHL)
Provincial Division leaders, Edson Aeros, are facing a single road game against the No. 3 Barrhead Bombers, and two home games versus No. 4 Cold Lake Hornets. Edson has pulled away from No. 2 Hinton Timberwolves after winning its last 16 games, 18 at home.
The Aeros have dominated in their second season of action in the WSHL and so far have kept their promise of going back to the post season. They are essentially locked in for home ice through division playoffs, and are a shoo-in to the Thorne Cup if the same narrative of dominance continues.
Neither the Bombers nor Hornets have found a way to win against the Aeros all season. Bombers can recall a closely contested 4-3 decision as its best effort, when they almost defeated the Aeros at Repsol Place in Nov.
Cold Lake's closest efforts were two games in which they lost by a 1:2 ratio in a 2-4, and recent 3-6 loss to the Aeros. With that said, Edson has a clear advantage going into the games, but the sport of hockey never fails to provide shocking results.
We have seen the Hornets defeat Hinton; Seattle defeat Ogden; Wichita defeat the Eagles; and Pueblo defeat the Rhinos. Point being, the Aeros can have one bad game, but it will be the game of the season for the opponent who steals a win.
Barrhead is on a three game high after earning its first sweep in a three game series over the Hornets last week.
Barrhead Bombers vs. Hinton Timberwolves/Cold Lake Hornets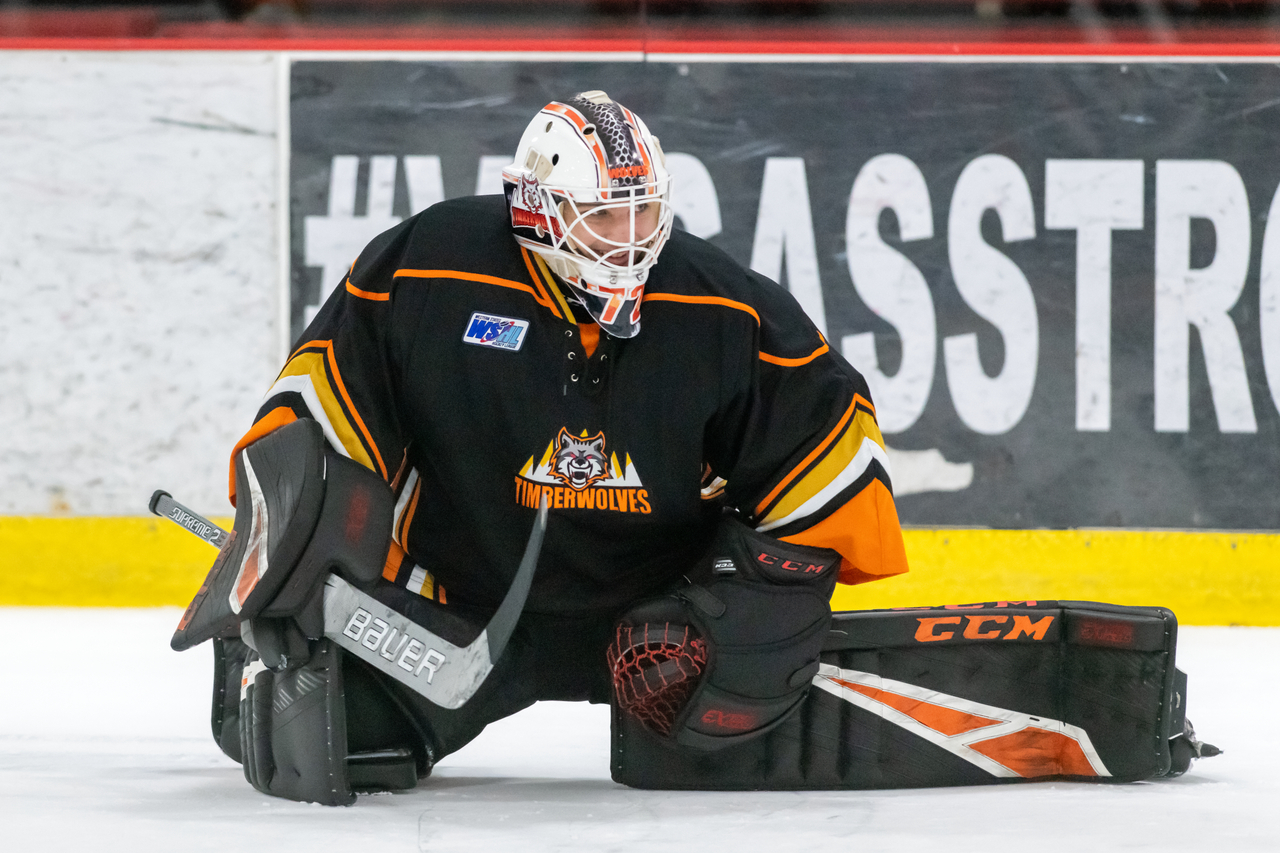 (Photo by Mark Mauno, WSHL)
Barrhead Bombers will see three different opponents this weekend, and after hosting the Aeros, will make the shift to Murray Rec. Center for a date against the Timberwolves. Its third game, on Sunday, will have the club return to Barrhead Agrena for an early game against the Hornets.
Hinton is another team that the Bombers haven't been able to decipher. It's just another version of the Edson Aeros, but with a heavier game and a bit more size. Barrhead was blanked 5-0 in their most recent game against them, but had pushed the Timberwolves to overtime the night before.
Barrhead had a 2-1 lead over Hinton on Feb. 15 forcing the T-Wolves to come-from-behind and win the nail biter on a goal by Brendan Auger. If the Bombers can ascertain what they did to flatten Hinton in that game, a late-season upset may be in order.
Cold Lake had an opportunity to really distinguish themselves—from Barrhead—in the standings but after being swept last week, Barrhead took that initiative. Hornets will face the Bombers for the final time this regular season.
In retrospect, the Hornets have lost its five previous games against the Bombers going into the single tilt. Cold Lake's Wassim Saidani, has three goals and two assists in three games against his former Bombers team, and can be a secret weapon this time around.
Bellingham Blazers vs. Utah Outliers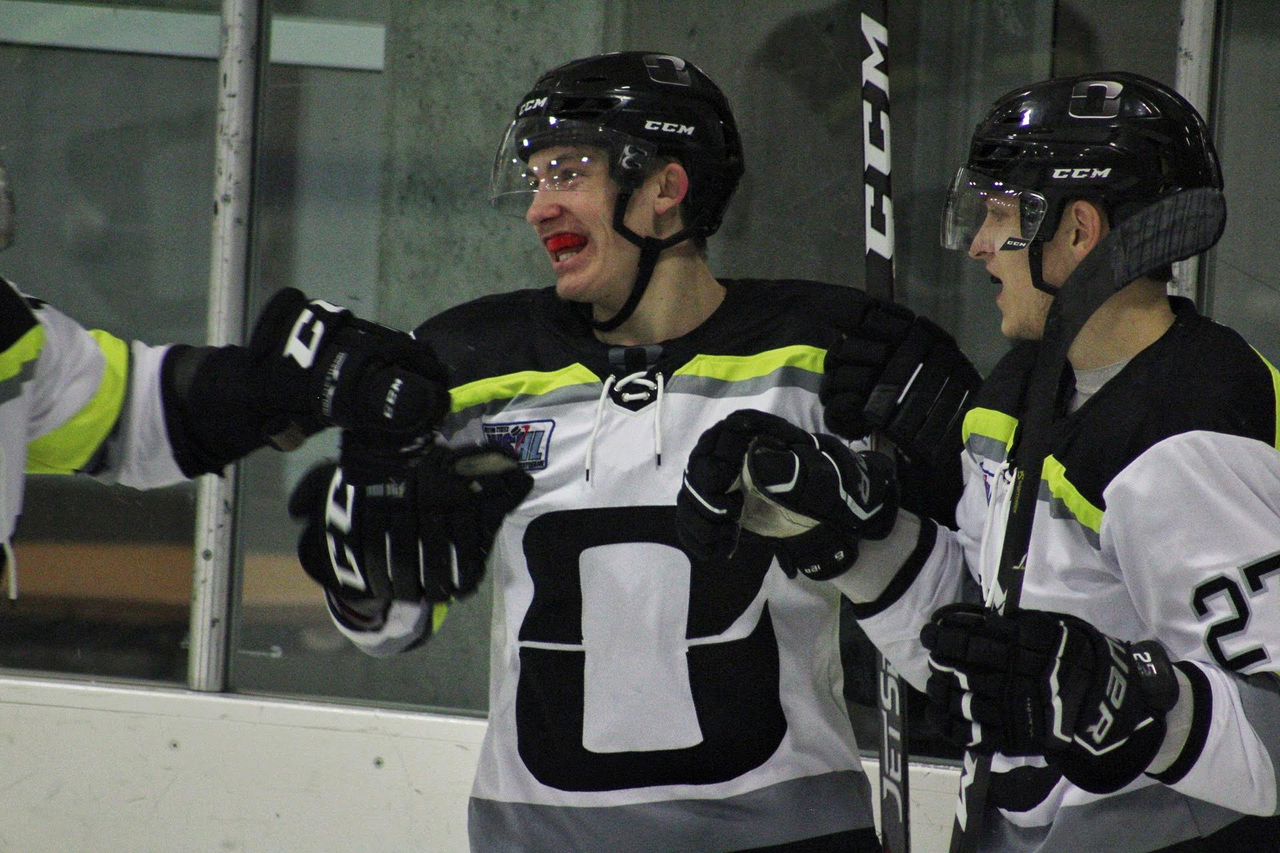 (Photo by Bayleigh Schroeder, Outliers)
RECAP LINK: Billings, Blazers upend Totems at Olympicview
Following their rare victory at Olympicview Arena yesterday (see link above), the Bellingham Blazers need a massive spurt of energy to take down the Utah Outliers in West Valley City, Utah. Bellingham hasn't the fondest memory of Utah who stormed their home barn earlier in Jan.
The Outliers reached a 6-3, and two shutout wins at the Bellingham Sportsplex, outscoring the Blazers 18-3 in three games. The Washington side has been improving its play as the season wears on. As the above link states, Bellingham is on a seven game win streak, and are going into this series with a different mentality.
Only two points out of third place, expect Bellingham to give their greatest effort against a team that mowed them over once before. It's never easy at the Accord Ice Center where the Outliers are 18-2-2, never mind their current 14-game win streak.
The Outliers are comfortably in second place and will likely remain in second as they trail No. 1 Ogden by 30-points, and lead the No. 3 Totems by 40+.
Utah desperately wants to get back to the division finals as the sting of last year's Mountain Division Finals, is probably weighing in again. They were at the brink of a Thorne Cup appearance, but this year, the Outliers are packing a bigger punch, but with the same stalwart goaltending.
Dallas Snipers vs. Wichita Jr. Thunder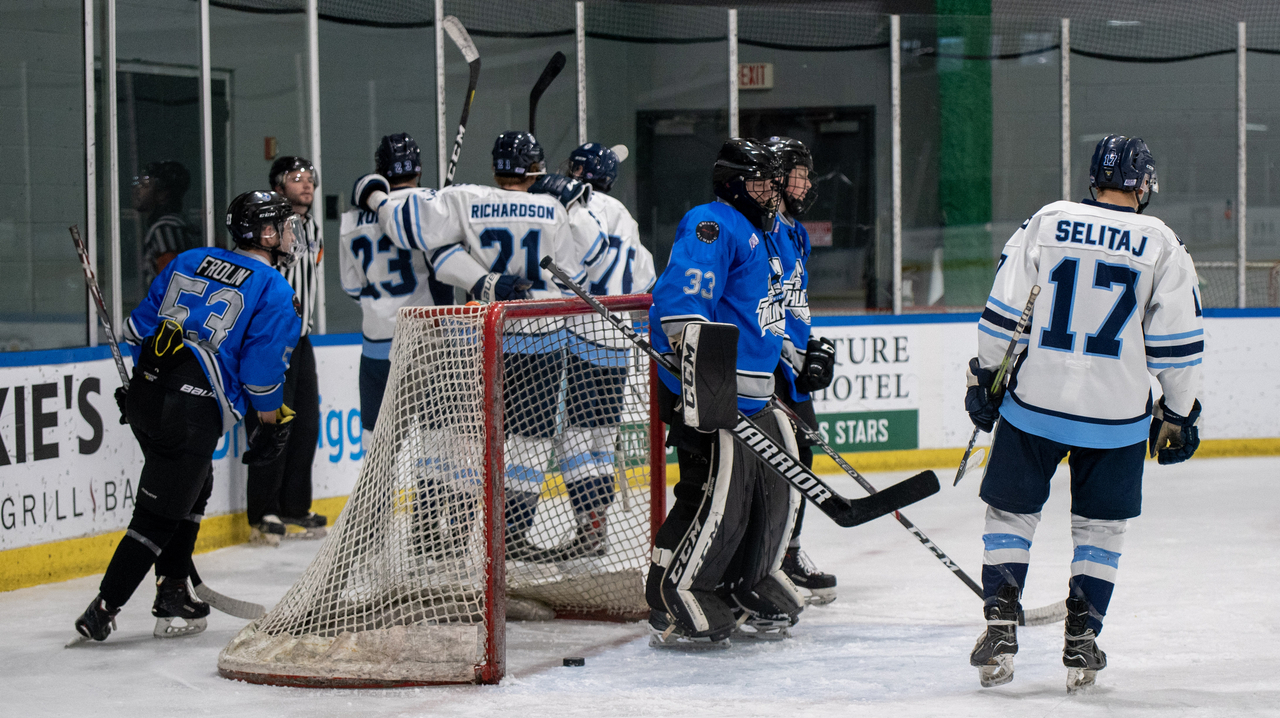 (Photo by Michelle Holcomb, Snipers)
RECAP LINK: Snipers Take Down OKC in rare Wednesday game
Dallas is fresh off a victory over Oklahoma City (see link above) and a positive road trip in Wichita, but will return to the Wichita Ice Center for its final three games of the regular season. Jr. Thunder has been out of action since losing three straight to the Snipers at home.
Dallas knows not to underestimate the Jr. Thunder who can really strike at times. They are still tied for third place and the trailing Pueblo Bulls have three more games on the schedule. Dallas needs to try and sweep all nine points this weekend to give themselves the best opportunity for a third place finish.
Dallas holds the longest active win streak in the Midwest-Mountain division at five straight wins, and did so in scoring 37 goals during that span.
If the Jr. Thunder don't have a say in Dallas' playoff implications this weekend, they are still indirectly in the conversation since their final opponent of the season will indeed be the Pueblo Bulls.
Fresno Monsters vs. Southern Oregon Spartans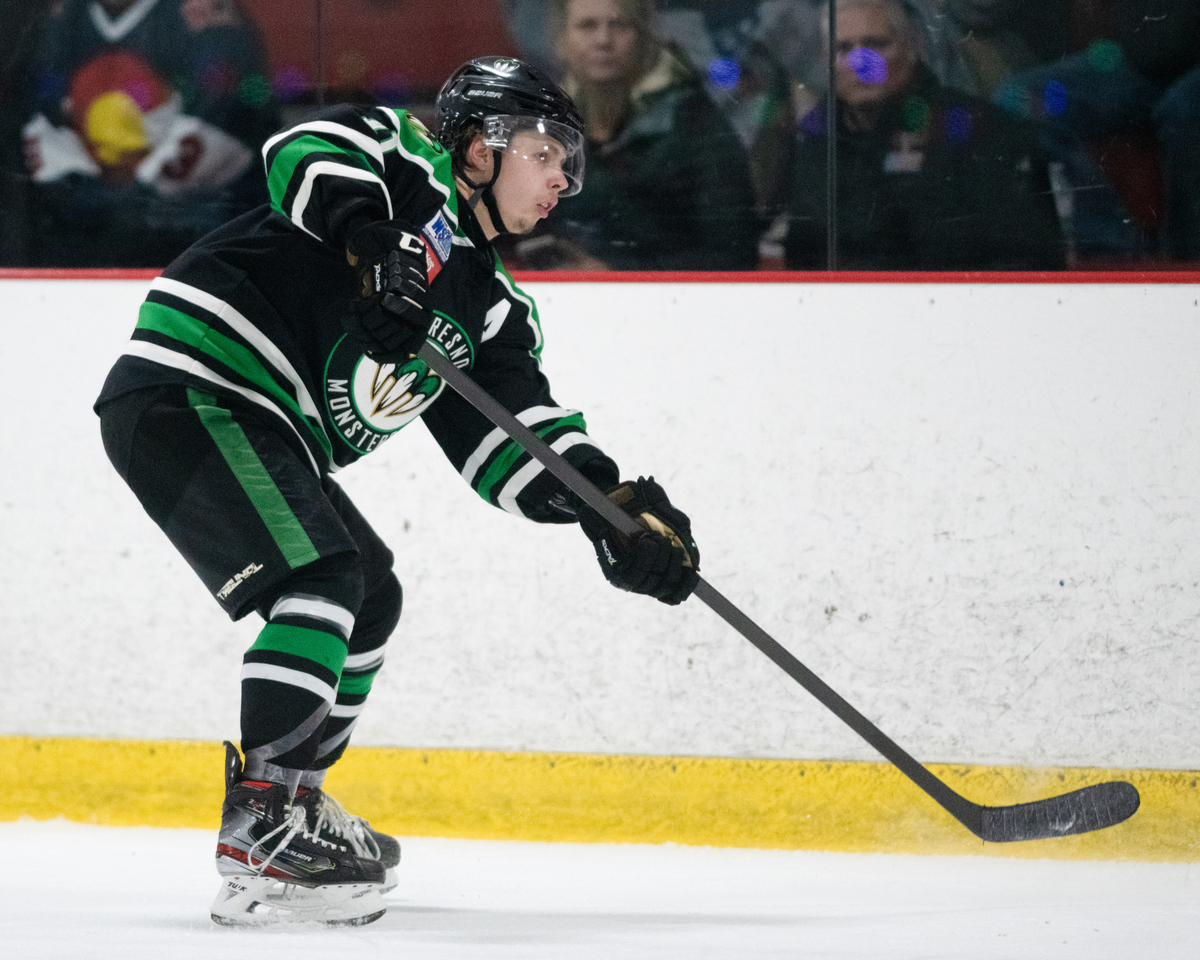 (Photo by Mark Mauno, WSHL)
Central California's Western Division leaders, Fresno Monsters, are not complete strangers to the Southern Oregon Spartans. But they were rather rude to the visiting Spartans gaining 29 goals in three games when Southern Oregon made the trip to Fresno early Dec.
Monsters swept the Spartans in three games during their last meetings and Fresno has three more tilts against the Northwest Division side coming up.
Both clubs are in different worlds considering Fresno is nearly to 100-points and the Spartans are out of a playoff spot. But playing in Medford is also out of this world with a rabid fan base always showing up to give the visitors a little resistance—despite their team's position.
Fresno's road record isn't as outstanding compared to other teams in the league and this marks the first time they cross state-boundaries in over two months. It is likely that Fresno results in positivity unless the Spartan's netminders, Christopher O'Shuaghnessy and Josh Breznik, stand on their heads.
By comparison, the Spartans have a -234 goal differential and the Monsters have a division leading, +124 goals. The Spartans can remember taking advantage of Ogden's bus legs earlier this season, can they exploit the same factor this weekend?
Las Vegas Thunderbirds vs. San Diego Sabers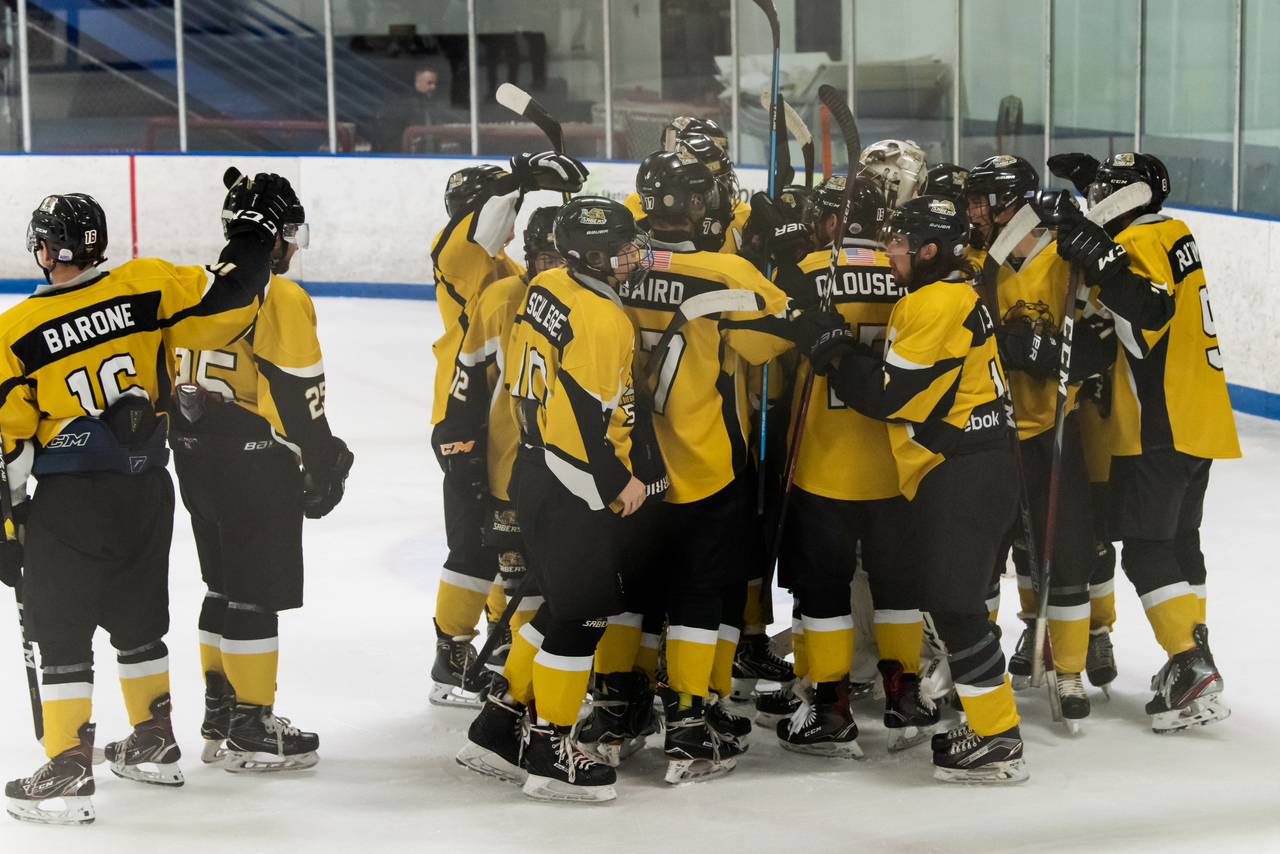 (Photo by Mark Mauno, WSHL)
There may not be a log-jam in the Western Division anymore, however the No. 3 Las Vegas Thunderbirds are one point from No. 2 San Diego Sabers in the divisional standings. This two game series can be the decider in the race for second place since the Sabers, including this weekend, only have three more Western Division games before taking on the Rhinos in El Paso to close out the regular season.
Thunderbirds will entertain three more Western Division games in the Avalanche and Monsters after this weekend. San Diego has bested Las Vegas three of four times at the Iceoplex Escondido, but in total are 4-3 over them. The Sabers are enjoying one of their better seasons in recent memory being this high in seeding at this point in the season.
San Diego is the only team in the West coming off a three-game sweep and look to increase the gap between second and third, as they would like home ice should the T-Birds be their first playoff opponent.
Pueblo Bulls vs. Northern Colorado Eagles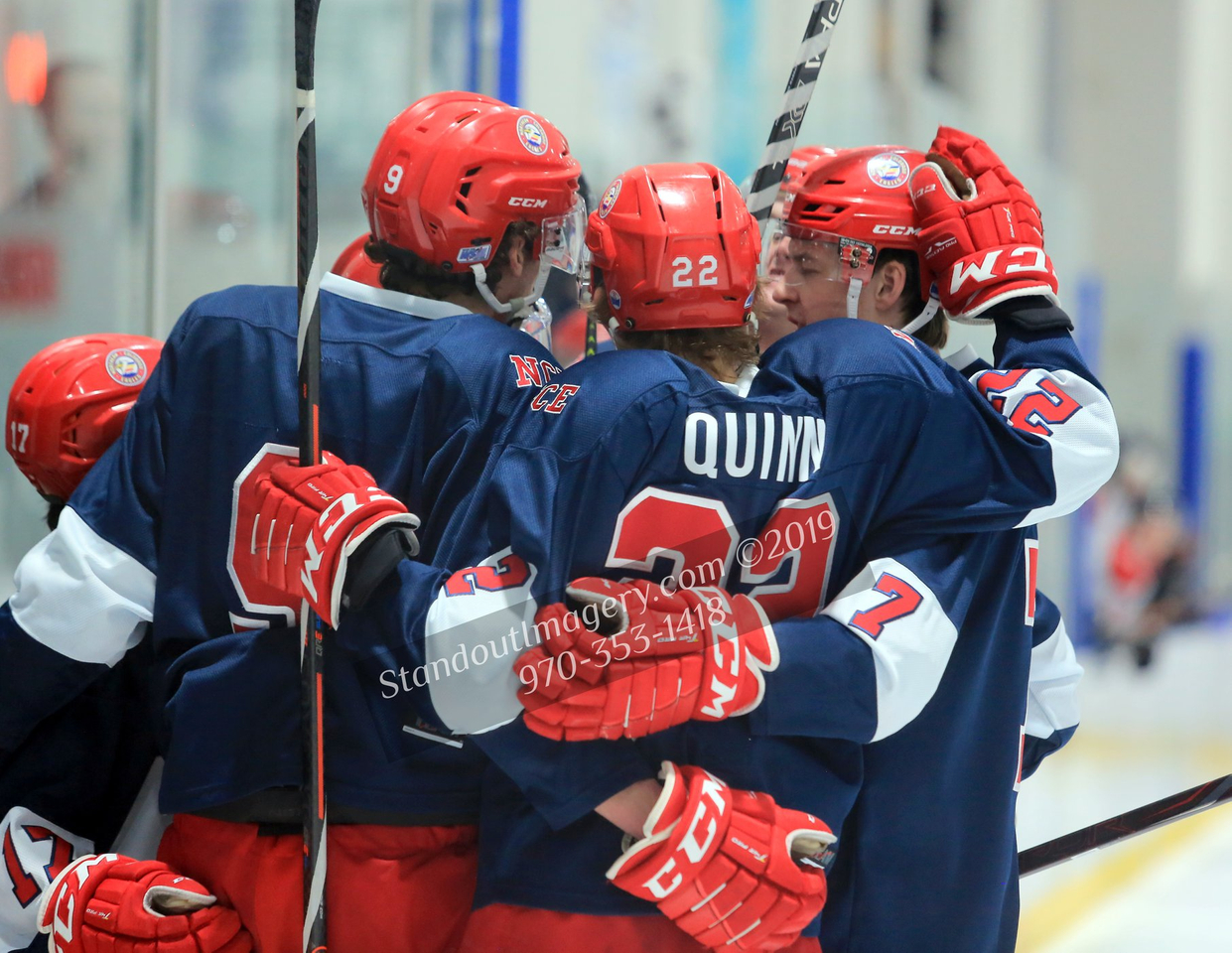 (Photo by Diane Madden, Standout Imagery)
Their last three-game series didn't disappoint as two overtime games were in store for the Pueblo faithful. Northern Colorado was able to gut out a win in their first game ever, but the Bulls came back to defeat them in two straight games. Now, the in-state rivalry will take a turn North for Greeley.
The last 6-5 overtime victory for the Bulls was an all out 'hail-mary,' for lack of a better term, with each team exchanging five goals aside in regulation.
Pueblo outscores the Eagles 14-11 in the season series making them somewhat equal, but the veteran and tested Eagles surely want to impose their seniority in the league.
There's more in play here; Pueblo is actually within reach of second place since the Eagles only have an 11-point advantage. Technically, if Pueblo sweeps in regulation this weekend on a miraculous outing, they could cut it to two points, and still have nine points to contest against the bottom-seed, Jr. Thunder giving them great odds.
Northern Colorado will not allow for negative results in their final home series of the regular season, specially needing all the momentum they can amass going into the Thorne Cup.
Watch every game on BDEHockey.com!