Former WHS grad Olsen to play hockey at St. Mary's
When he was a senior at Worthington High School, Andrew Olsen blew out his knee and missed the entire hockey season. Doctors told him he might never play hockey again, and they considered the possibility that he might need a knee replacement.
But Andrew, who says he "lives" for hockey, immediately set out to prove them wrong.
And he did.
Olsen, son of former WHS boys hockey coach Paul Olsen and brother of Trojans senior Bryce, who signed recently to throw the shot put at the University of Wisconsin-Eau Claire, expects to sign to continue his hockey education at St. Mary's University in Winona. He plans to enroll in the pre-med program there.
Since graduating from WHS in 2018, Andrew has been busy playing Junior Tier II hockey. He started as an Oklahoma City Blazer, then was sent to the Ontario Avalanche in California. This is his second year with the San Diego Sabers.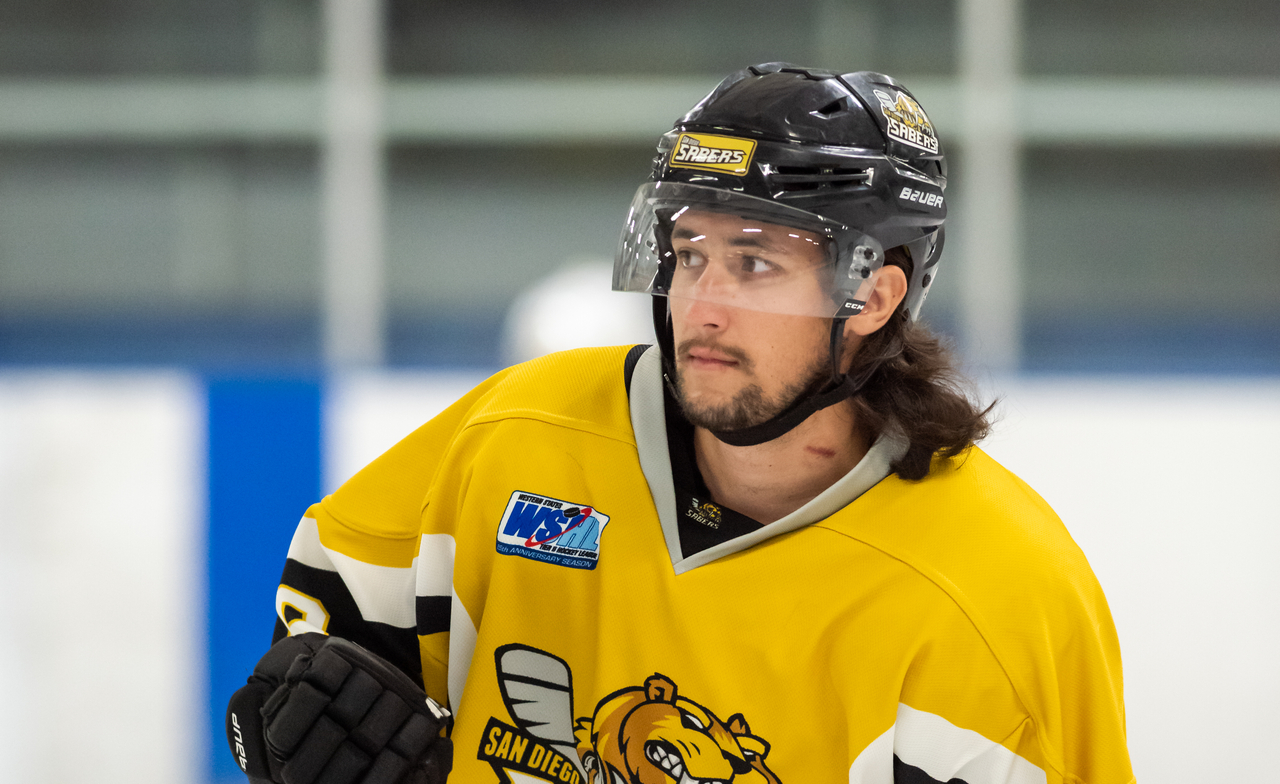 (Photo by Mark Mauno, WSHL)
Junior Tier hockey, Olsen said Thursday, is lots of hard work. Teams practice every day of the week before playing games on Fridays, Saturdays and Sundays.
A 5-9, 170-pound center, he believes his success has stemmed from desire.
"I've always had as my goal for me and my line to be the hardest-working line on our team," he said, adding that he personally strives to out-work everyone and he wants his teammates to be as competitive as himself.

"I've always strived to play college hockey. I've always wanted to play NCAA. And now that this goal is reached, I'll probably want to play beyond that, too. Just keep on playing as long as I can," he explained.
Does he love hockey? Uh. Yeah.
"I live for it. I don't know what I'd do if I didn't get to play," he said.
Olsen grew up watching his father coach the Worthington Trojans, and the two of them talk hockey all the time.
As a Trojan hockey player himself, he didn't get the chance to play on winning teams. But as he's proving today, lack of team success at the high school level doesn't prevent a determined individual from playing at a higher level.
"I always grew up playing on small teams," Olsen testified. "I've always played in high school where, yeah, we might not win, but I always wanted to do my best."
One thing's for sure: Olsen is a happy puckster.
"I'm living my best life now," he said.
Originally published on: https://www.dglobe.com/sports/4869731-Former-WHS-grad-Olsen-to-play-hockey-at-St.-Marys?fbclid=IwAR0DzRw4HFWZ7RJ0uKl8Xr3LxXn2QjXy3pzIAYy_lgIU-q6bEua2K8Qz6M4