Watching the GMHL West multiple death spirals is really becoming a lot like watching a preordained train wreck take place where emergency vehicles are already waiting to pick up the bodies.
Every week, the "league" makes a joke out of junior hockey by calling some people in the ice a "game", when it is a complete slap in the face of people who are actually trying to do something in junior hockey.
Lets look as how stupid some players and parents are being for playing games on multiple rosters for the GMHL West. It is a complete destruction of your playing resume to be a piece, or a pawn in this shell game, and not one team at a higher level is going to look at you seriously after this. What ever moron is telling you its a good idea has no business talking to any parent or player involved in hockey.
Using players in this way is a manipulation of young men for financial benefit. It should be a criminal charge, and the people allowing this to happen should be held accountable.
When you have owners and coaches putting 6 or 7 players on the ice for a "game" it is deliberately ricking injury to those players. It is abhorrent and there is no place in hockey for people who are this irresponsible with player health and safety.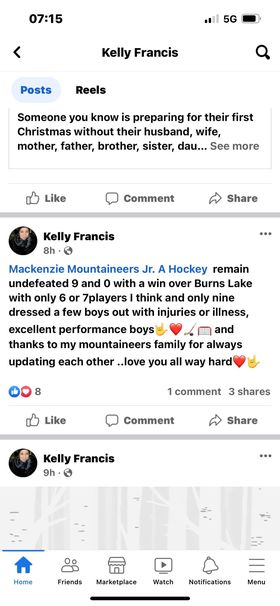 When the reasons state publicly are that players are sick or injured, this joke of an organization puts 6 or 7 players out on the ice to risk more injury? The only reason that could possibly be used is that they dont want to refund player tuition or ticket revenue. Both reasons are selfish and financially motivated.
How bad can the Burns Lake team be? Out shot 86 to 48 by a "team" with 6 or 7 players? Losing 7 to 5?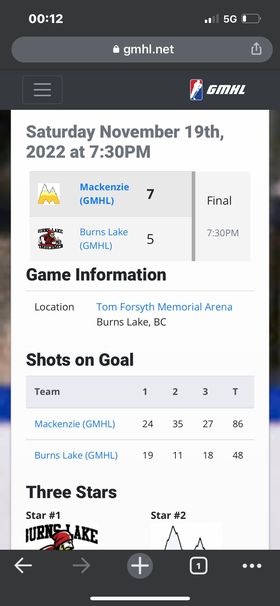 This is not junior hockey ladies and gentlemen. This is a scam. This is a scheme to get money out of tribal leaders and if operating in the United States would likely be prosecuted as organized crime. Yes. I know, all you GMHL West idiots will now say you are calling attorneys and slander this slander that. Its not slander if its true morons.
We are calling on all players and parents involved in this shit show to stop paying, and leave. Leave for your own health and safety.
If you need help finding a new team, one that will treat you like a human being and will respect you as a player, I am only an email away.