USHL's Muskegon Lumberjacks Receive CSS Concussion And Performance Testing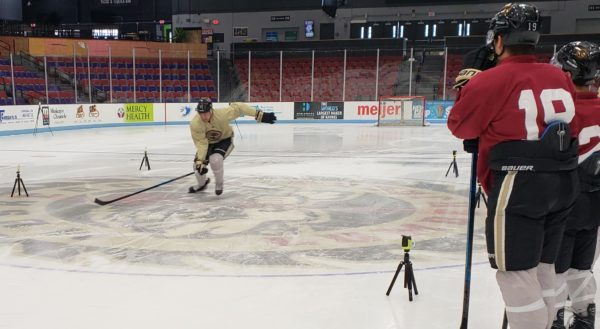 The Muskegon Lumberjacks are one of the United States Hockey League's top teams on the ice.  This season has them at the top of the USHL's standings with a perfect seven wins and zero losses record.
The Lumberjacks historically have been an organization that has never been satisfied with the status quo, even when having success.  The Lumberjacks, with their perfect record, and a deep talent pool, are now taking extra measures to assure their success as a team, while offering more to their players in the way of performance testing information and protection in concussion baseline analysis.
"When presented with the opportunity to add the Central Scouting Services Performance and Concussion testing for our players, it was easy to say yes."  Said Lumberjacks Head Coach Mike Hamilton  "They came to our facility, set up their equipment, and the whole team was tested within a few hours time.  Very efficient, informative, and the information gained through this technology is incredible."
The Muskegon Lumberjacks regularly develop some of the worlds top players moving on to the NHL.  Five alumni players from the Lumberjacks team were taken in the National Hockey Leagues entry draft, including the second over all pick Andrei Svechnikov going to the Carolina Hurricanes.
"The USHL is regularly producing some of the worlds top players.  It only makes sense that teams would now want to use the leading testing technology and information available to them."  Said Central Scouting Services Director Tim Taylor  "Central Scouting Services has the only peer reviewed concussion testing and brain speed analysis tools available to athletes.  Combined with our battery of Performance Testing, and player database where all player data is stored on the cloud, the Muskegon Lumberjacks lead the way in offering more to players on and off the ice."
Central Scouting Services doesn't simply "test".  Central Scouting Services doesn't use hand held stop watches, or write "speeds" or "times" on sheets of paper.  Central Scouting Services uses the most accurate lasers for measuring not only speed, but reaction time, agility, and explosive power.
Central Scouting Services measures how quickly your brain processes information.  This testing, becomes your baseline testing for Concussions.  Peer reviewed CSS brain speed is testing not available in "apps", or other gimmicks being sold as a concussion test.
Taking all of that information, Central Scouting Services can then provide teams, leagues, and organizations with the unbiased measurements of the complete athlete.
These results, can be used to develop training programs that can improve athletic performance.  Measuring again at later dates, those improvement increments can be tracked over time to give Hockey Professionals the most complete player data profile available.
The CSS testing, and player database offer organizations and athletes the tools to gain a significant performance and training advantage over the competition.  These advantages translate to increased performance on the ice, and an additional layer of protection for athletes who may some day be diagnosed with a concussion.
The Muskegon Lumberjacks, with an undefeated record, may have just made their team that much better moving through the season with the CSS testing data.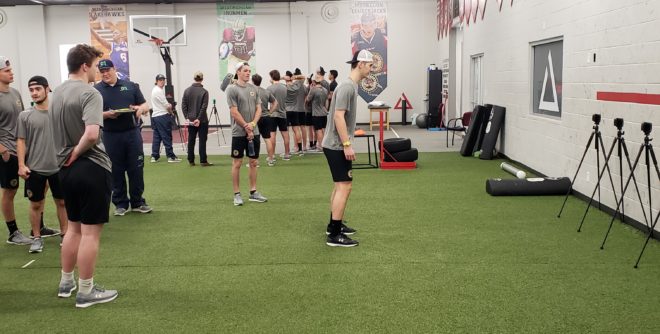 To get your team tested visit https://centralscoutingservices.com