Developing Hockey In The Middle East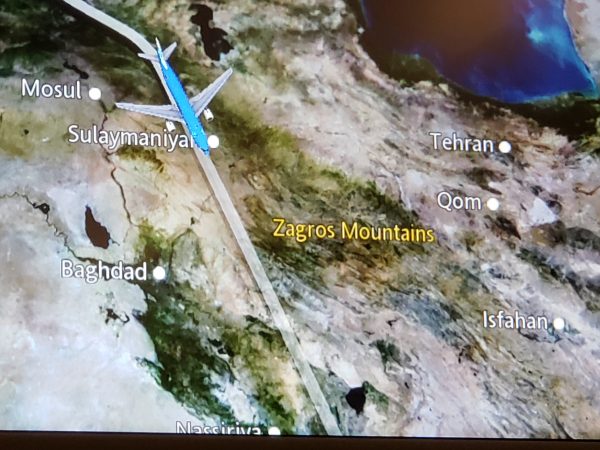 Having worked in hockey in one capacity or another for the better part of three decades, I thought I had seen and heard most everything. Working with leagues, teams, coaches, players, and families has allowed me to see and experience some of life's greatest, and not so great moments.
Years ago, I had the opportunity to assist in developing a youth hockey association, from the ground up. That was followed by developing a high school program from the very beginning. Over the years, those experiences have turned into opportunities to assist many leagues and teams in developing programing around the world.
A few weeks ago though, I could have never anticipated the phone call and request for consulting services that I received.
While on a scouting trip in Lviv Ukraine, I received a call from a person located in the Middle East. Yes, the very same place we read about and see on the news on a daily basis in the United States and Canada.
This person, who because of confidential agreements will remain un-named, was inviting me, along with other experts to visit a country in the Middle East to consult on developing an ice hockey program. Ice hockey in the Middle East? Yes, it was not one of my friends giving me a prank phone call.
Upon receiving the invitation, I have to admit, I was rather nervous about traveling to the region. After all everything we read and see on television paints a pretty negative picture of the region. The fear of places like Iraq and Iran, when traveling to the region, can become a very real thing.
Though nervous, I accepted the opportunity. I didn't know anyone who had ever been to the region without some time in the military, and I thought it would be an experience to remember.
So, myself and five other experts from countries with very established ice hockey programs in Europe and Scandinavia arrived in the Middle East, in the middle of the night, and we were greeted with temperatures over 100 degree's with the sun no where to be seen. To say the heat was intense would be a big understatement.
Quickly we were in cars and on the way to an incredible location on the Persian Gulf. Yes, the same Persian Gulf we read about and see on the news on a regular basis as it relates to military action in the region.
After a nice reception dinner, we were all off to sleep.
The next three days, we participated in meetings, discussions, and group exchanges with the experts, and our hosts. These exchanges were not only informative for our hosts concerning hockey, but they were incredibly enlightening for everyone on a cultural level.
So often in life, I think we form opinions based upon what is presented to us in the media without actually experiencing that which is being presented. We expect to receive an informed and unbiased opinion on things "news worthy". This expectation is neither reasonable, or safe to have.
The news, while informative, and interesting, could not have painted a more inaccurate picture of the Middle East region.
I met with people from four different Middle Eastern Countries over four days. Each of them unique, and every one of them was Muslim.
Sure, it was unusual to hear the Muslim call to prayer several times a day. It was unusual to see Mosques everywhere, and to learn why different colored lights on the Mosques meant that they were for different Muslim sects.
It was very unusual to be alone shopping in a Souk (market) that has been around since the dawn of time. More unusual that I was the only Caucasian person there, and I could not have felt more safe. Though I also felt like an oddity because of the people who were staring at the very white person in the middle of the Souk.
That said, the people were amazingly helpful. Very kind, generous, and gracious hosts, even when not associated in any way with the officials I was working with. It was all exactly the opposite of what I probably expected as an American going to the region.
So why do I write about this experience?
It is simply a reminder to everyone that hockey is more than a game. It is a vehicle. It can create memories, life long friendships, and life experiences that other games can not create.
Will our mission to the Middle East create an ice hockey power in the region? Who knows. If our hosts are the ambassadors, and the level of care provided to us is an example of how they will try to develop their own hockey culture; then it is entirely possible that they will use hockey as a vehicle to show many more people that we can not believe everything we see and read on the news.
Joseph Kolodziej – Adviser
info@hockeytalentmanagement.com