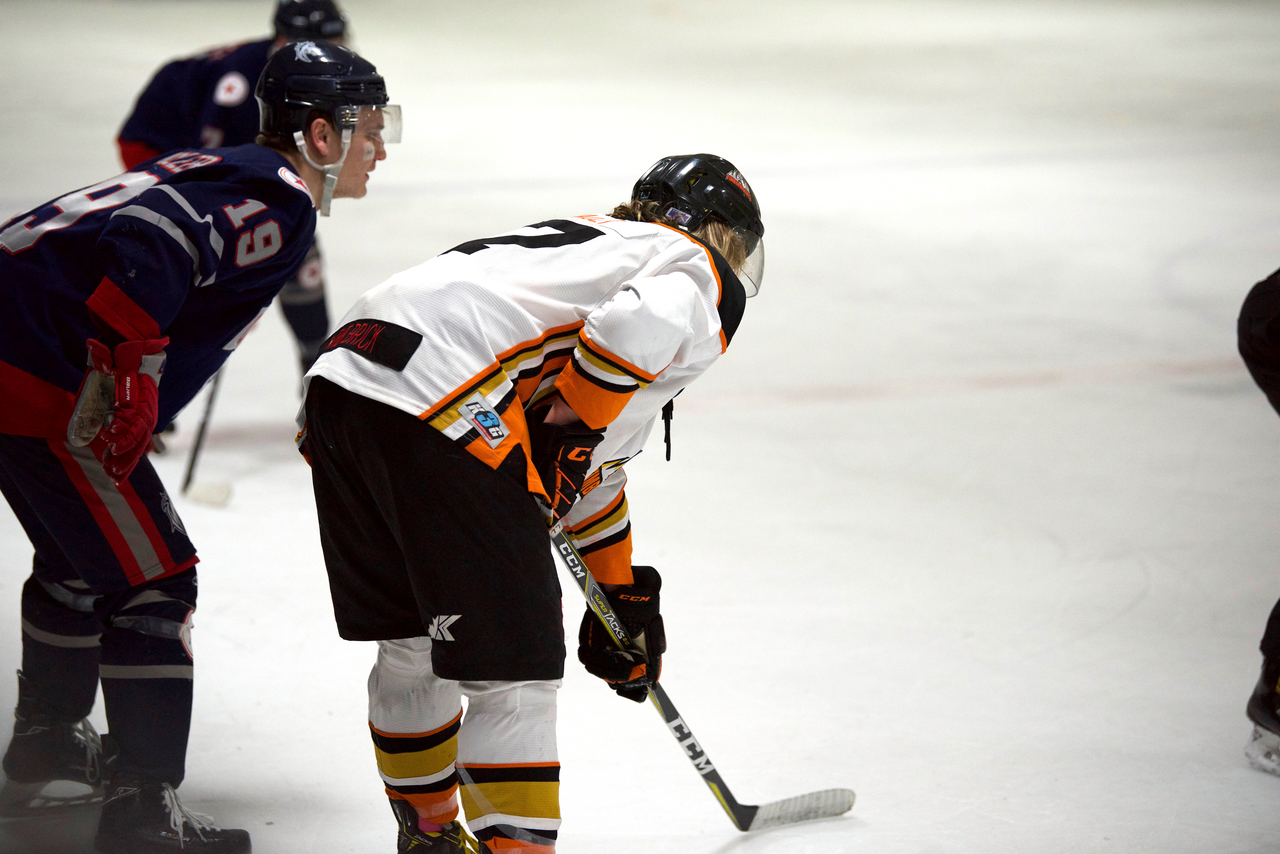 (Photo by Manny Brizuela, WSHL)
It was a new name for the city of Hinton, but the Timberwolves by far exceeded its first year in the league after collecting 103-points, and remaining among the Top-2 in Provincial Division play for the entire season. Although Hinton posted a second place finish last year, this year was more impactful due to the formidable challenge it always imposed over its opponents.
It became apparent early on that Hinton meant business when, after returning the core of a faded Wildcats team, also brought in a pair of chips from the Bellingham Blazers. You simply cannot talk about the Timberwolves' success without first leading with Jamahl Eakett's 123-point career season.
Looking back now, it is clear that transitioning from Northwest Division play to Provincial Division was never an issue.
If you subtract Eakett's 60-goals from Hinton's total count (255 GF), the team is actually one goal shy of 2018-2019's total. But not to be overlooked is how the monster of a season pushed him to overtake Matus Spodniak for second on the WSHL All-Time Goals list; 12th overall for goals in a single season behind Ivan Bondarenko and Chris Seto.
Hinton would have likely had a similar result without the Provo native, but adding him assured consistent scoring day in and day out. The second chip that Head Coach Jeff Richards brought in was Kolter Pawlick in net. The former Blazer started on three straight wins to quickly earn trust and moved forward with his best season after ending with a .934 SV%.
Hinton fared well against Northwest Division opponents and remained undefeated versus the Seattle Totems and Bellingham Blazers in the Canada/U.S. Showdown.
Although Pawlick was a highly touted acquisition, Adam Robertson held his own and was dubbed the starting goalie as he led in the wins department and ice-time as well.

Hinton lost only one game each to the Cold Lake Hornets and Barrhead Bombers. What will be left behind as a humbling reminder, however, are eight losses to the Edson Aeros and a winless Showcase. The Timberwolves couldn't figure out a way to get by Edson succumbing to a 1W-8L season-series. And where there are positive notes, negative notes surely follow and we saw this when Hinton faced the Aeros, or even opponents at the Showcase.
Eakett almost doubled the amount of points registered by second leading scorer, Brendan Auger. When facing a top team such as Northern Colorado or Ogden, the opponent only really had to shutdown a couple elements—to stifle a game plan—as the pack couldn't quite keep up to pace.
The Timberwolves could only manage three goals at Showcase, and surely enough, its key players were suppressed. This left the goal scoring to be done by players outside of their top six—Logan Arsenault, Brayden Harper, and Ilya Zhilinsky.
As already mentioned, the T-Wolves kept a consistent pace within their own division that after Showcase won seven consecutive games until hitting a brick wall, yet again, in the Aeros. Although it was a largely a winning season, it may have ended on a bittersweet note losing to the Barrhead Bombers in overtime before an eventual first round of playoffs.
Ultimately, the Timberwolves were able to remain in good standing for the entirety of the season but were subject to minor hiccups while shallow scoring depth manifested itself very seldomly.
Top-5 Scorers
| | | |
| --- | --- | --- |
| 60 Goals | 63 Assists | 123 Points |
| | | |
| --- | --- | --- |
| 26 Goals | 40 Assists | 66 Points |
| | | |
| --- | --- | --- |
| 18 Goals | 41 Assists | 59 Points |
| | | |
| --- | --- | --- |
| 20 Goals | 29 Assists | 49 Points |
5. Max Sturko
| | | |
| --- | --- | --- |
| 15 Goals | 33 Assists | 48 Points |
Top-2 Goalies
| | | |
| --- | --- | --- |
| 11W-3L-1OTL | GAA 1.94 | SV% .934 |
| | | |
| --- | --- | --- |
| 16W-6L-1OTL | GAA 2.65 | SV% .911 |